She slapped those clowns down in one smooth stroke. I love this woman!
It seems that women are encouraged to be hateful towards other women, and it needs to stop.
When I was in school, people not wearing the "right clothes" were ridiculed. Most of the people wearing the "right clothes" were in the upper middle class. I developed a real attitude towards these people. I backlashed by dressing in clothes that would get me noticed. I either wore very bright, colorful outfits or I wore headbanger or punk clothing. (I was born in 1965, thus went to high school in the 1980's.) I once had a guy sneer at me "go back to Hollywood, Bitch!"
I responded "with pleasure."
The narrow minds don't know how to handle those who buck the system.
Dances With Fat
Gabourey Sidibe attended the Golden Globes and was criticized for her body, her dress, and how the dress fit her body. Although she shouldn't have had to deal with it, her response was brilliant and, if it were possible for me to be more of a fan of her, this would do it: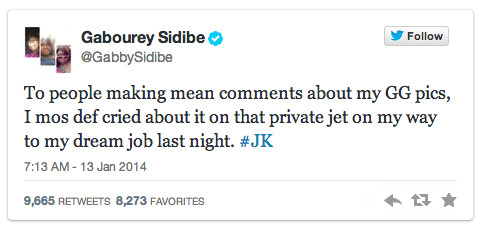 Obviously I think all of the fat bashing comments about her are complete bullshit.  But there is something else that's been bugging me as well. Before I get into this I know that this blog is controversial and there are many who will disagree with me and that's totally ok.  I want to be clear that people have every right to do the things that I'm about to discuss, I'm not the boss of anyone else's underpants and I'm not trying to tell anyone else how to live. My goal is, as always, to give people something…
View original post 974 more words